If you're hoping to start an eCommerce business, you may be worried about competing with larger retailers such as Amazon and eBay. Due to their massive scale, they can offer low prices and fast shipping times that are nearly impossible to contend with. So how can you possibly keep up?
Dropshipping can make your business dreams possible. This modern model requires little up-front investment, and relieves you of the responsibility of managing inventory. Plus, you can be successful while maintaining a smaller-scale store.
In this article, we'll explain how dropshipping works and explore some of its pros and cons. Then we'll show you how to start a dropshipping business via AliExpress in four steps. Let's get started!
An Introduction to Dropshipping
Dropshipping is a business model that enables entrepreneurs to sell merchandise online without ever handling a physical product. Over the past few years, it has been rising steadily in popularity.
With dropshipping, you can generate a largely passive income by outsourcing production and shipping to the supplier. That way, you don't have to create, store, and ship your product. You simply offer the item for sale and work directly with a supplier to coordinate fulfillment.
To start your dropshipping business, you'll want to create a product page for each item on your website. Then you'll drive traffic to your site by advertising to a targeted audience in a relevant geographical area.
When a customer orders an item, you forward it to the supplier for packaging and shipping. Finally, you contact the customer to confirm the shipment and timeline, so that the package arrives at its destination.
The Benefits of Dropshipping
It's no coincidence that the popularity of dropshipping has increased over the past few years. There are plenty of benefits to this modern business model. Let's explore a few of them.
Minimal Upfront Investment
Dropshipping requires less investment when compared to other types of retail operations. You do not have to open a physical store, hire employees, keep the lights on, pay overhead, or stock products. Instead, you can purchase wholesale from suppliers and sell products online through an eCommerce storefront that you manage.
No Minimum Orders or Inventory Requirements
Most start-up businesses struggle to shoulder the cost of ordering inventory. With no minimum orders or inventory requirements, dropshipping can allow retailers to start small and grow at their own pace. Plus, you won't spend any money until a customer purchases a product from your store. This means you can reduce your start-up costs and lower your risk.
Beginner and Remote Friendly
With dropshipping, you don't need any special skills or knowledge. Additionally, it can be managed entirely from your computer. That means anyone can start an online business, as long as you are willing to put in the time, energy, and effort to create a simple website.
Global Potential
Dropshipping allows you to sell products that you may not have access to locally. This is especially helpful for small businesses, which may not have the means to sell all available products due to capital constraints. This allows you to reach a global audience without having to ship products overseas.
Expanded Product Flexibility
The ability to dropship opens up more product opportunities. You can sell a wider array of items, boosting sales and making your site more appealing to consumers. If you're a small business, this allows you the product range of a larger entity while maintaining control over your costs.
The Downside to Dropshipping
Dropshipping can be easy and profitable when done right. However, it does have a few downsides. Here are a few you may want to consider before launching your dropshipping business.
Lower Profit Margins
In the dropshipping setup, you're not purchasing inventory in bulk and you're paying someone else for storage and order fulfillment. Therefore, your profit margins are typically lower than they would be if you managed the whole process in-house.
Dependence on Suppliers
When you are unable to track inventory levels, inventory management can be difficult. You are dependent upon suppliers for stock. As such, if they run short, your customers could be left waiting for their orders. To avoid losing business, it's essential to choose reliable suppliers with a strong track record.
Lack of Quality Control
When you outsource your shipping and order fulfillment, the responsibility of resolving an issue will ultimately fall on you. That's because you are the customers' first and only point of contact. If you don't carefully select quality products from quality buyers, this can cause lead to unhappy buyers.
How to Start an AliExpress Dropshipping Business (In 4 Steps)
Now that you know how dropshipping works, you're probably wondering how to get started. Here's how you can launch your dropshipping business in four simple steps. Keep in mind that you'll need an active WordPress site and Google Chrome in order to proceed with this tutorial.
Step 1: Register for an AliExpress Account
To get started, go to the AliExpress website and click on Account. Then select Join. This should prompt a pop-up with a registration form:
Here, select your country, enter your desired email address, and create a strong password. Then click on Create account.
Next, you'll need to navigate to your email to find the four-digit verification code that AliExpress sends you:
Enter your unique verification code and click on Verify Email. If you're having trouble, you can always select Resend code and try again.
Step 2: Install Your Essential Plugins
Once your AliExpress account is set up, you'll have to download and install a few essential tools. Fortunately, this is quick and easy.
First, you'll need WooCommerce, a popular and versatile eCommerce plugin that allows you to sell products on any WordPress website.
To get the plugin, navigate to your WordPress dashboard. Then go to Plugins > Add New and enter "WooCommerce" in the search bar:
Once you locate the plugin, click on Install Now, and then Activate. Now the plugin should be ready to use. You can follow the prompts on the screen to quickly set up a simple WooCommerce store.
Next, you'll need the ALD plugin to import products from AliExpress into your WooCommerce store. This free plugin will make setting up your dropshipping business a lot easier:
ALD can help you with importing products, order fulfillment, and more. To get the plugin, simply repeat the same steps for installation as you did with WooCommerce. After that, follow the prompts in the ALD setup wizard to configure the plugin to your desired preferences.
Step 3: Find AliExpress Products to Sell
With so many products to choose from, it can be difficult to decide what to sell in your new WooCommerce store. However, there are a few crowd-pleasers that you may want to consider, since they may win the most sales:
Women's Clothing. One of the most popular categories on AliExpress is women's clothing. This includes everything from dresses and skirts to blouses and pants. There are millions of products to choose from, so you're sure to find something your customers will love.
Smart Home Devices. With the rise of smart home devices, it's no surprise that this is one of the fastest-growing categories on AliExpress. This category includes a wide range of products, from smart TVs to voice-activated assistants.
Phones and Accessories. Another popular category on AliExpress is phones and accessories. This includes everything from smartphones to phone cases and cables.
AliExpress also updates its best-selling page from time to time, so be sure to check it regularly for new popular items that you may want to capitalize on. Alternatively, you may want to cater your search to a unique niche that you've already established for your WooCommerce store.
Either way, to start researching and selecting products, go to the AliExpress website and use the search function to browse items by keyword or category. For example, you can search for "women's clothes" or "phone cases".
Step 4: Import AliExpress Products to WooCommerce
Once you've installed all your essential tools and found a product you'd like to import, return to your WordPress dashboard. Go to Dropship & Fulfill > General.
Here, you should see a link to Add WooCommerce AliExpress Dropshipping Extension to your Chrome browser:
Select this link and follow the steps to install the extension. Then verify that the button to let this extension connect to your store is toggled to Enable.
Next, to start importing products, access the extension from the upper-right corner of your Chrome browser and input your domain. Also, make sure it is authenticated on WordPress and that you have entered your Secret key from the previous screen: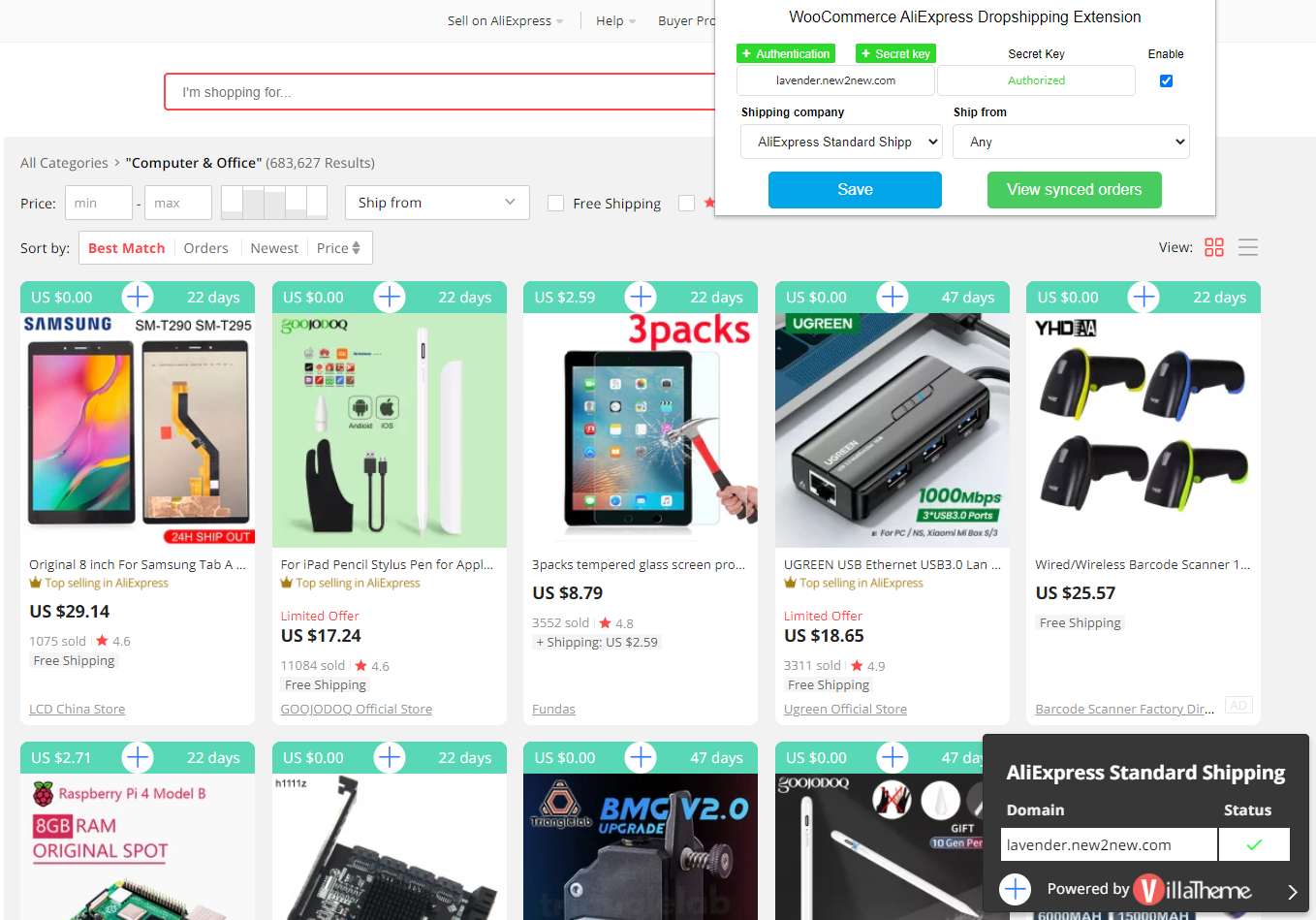 Then you can click on the plus (+) buttons to add your selected product. The ALD plugin will automatically import all of the product's details, including its image:
To finalize your selection, click on Import Now. If you want to add more products to your store, simply repeat these steps.
If you're having any issues importing products, you can always check out VillaTheme's demo. Otherwise, your new online dropshiping business is now ready to receive its first order!
Conclusion
If you want to start earning money now, dropshipping offers a highly-accessible way to grow a successful eCommerce business. This beginner-friendly online model can allow you to tap into global markets and start making a profit fast.
Let's quickly recap the four simple steps you'll need to follow to get your dropshipping business off the ground:
Register for an AliExpress Account.
Install your essential plugins (WooCommerce and ALD).
Find AliExpress products to sell.
Import your products to WooCommerce.
Do you have any questions about how to start an AliExpress dropshipping business? Let us know in the comments section below!